Living heritage company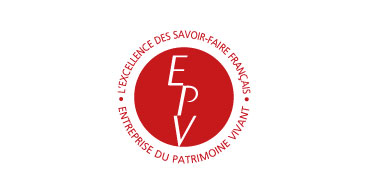 A STATE CERTIFICATION LABEL
AWARDED BY EXPERTS
A STATE DISTINCTION ONE OF ITS KIND IN FRANCE
The Entreprise du Patrimoine Vivant certification label (EPV – living heritage company) was set up by the State to distinguish between French companies with artisanal know-how and manufacturers of excellence. Awarded for a period of five years, this certification label brings together manufacturers that prize the high performance of their trade and their products. For the first time companies can claim a distinction from the State, which is recognition of their whole activity because the certification label is awarded to the company itself, thus rewarding its entire staff.
CRITERIA ESTABLISHING THE EXCELLENCE OF MADE IN FRANCE
The criteria for obtaining this certification label highlight French production in a very qualitative way. EPV-certified companies are characterised by:
• The holding of specific economic heritage,
• The implementation of rare know-how relying on the mastery of traditional techniques or technical excellence,
• The notoriety or seniority of their establishment.
As these certification criteria guarantee a rigorous selection, EPV are either quality references on their market or essential suppliers within an industry. These companies constitute the elite of French know-how in all fields.
A METICULOUS SELECTION TO
FIND EXTRAORDINARY TALENTS
The procedure to award the EPV certification label, with guidelines set by regulatory texts is carried out by experts. The assessment of these criteria is entrusted to an independent National Commission made up of professionals who work in favour of practices that guarantee excellence within their own activity.
Examination of the application file by the Institut Supérieur des Métiers (higher institute of trades), advice asked from regional government services and competent chambers of commerce, drawing up of an appraisal report, company visits by trade experts, examination by the National commission and final ministerial decision: the EPV selection process is a guarantee of their excellence.
---
THE REFERENCE OF FRENCH EXCELLENCE
YOUR ESSENTIAL ADDRESS BOOK
You're an individual who loves upmarket services and items? You're a professional looking for the best materials and products the best suited to your needs? You're fond of "made in France" and aware of the richness of France's manufacturing heritage? EPV-certified companies are your precious points of contact.
SUPPORT FOR FRENCH KNOW-HOW
These gems showcase French know-how in varied sectors. They operate in fields where France benefits from a symbolic image but also in cutting edge sectors where the country has unknown strengths that the certification label helps to spot.
EXCEPTIONAL COMPANIES
Adaptability, reactivity, innovation, passion for the profession: EPVs share the same values. Whatever their size, notoriety or specialities, together they watch over a treasure, that of France's manufacturing heritage.
In all fields, derived from tradition or cutting edge techniques, they have a talent in common: that of offering a tailor-made service or the hard to find item.
A STRONG IDENTITY
This certification label forms a network of companies that share the same values. These companies are unique because they know how to reconcile tradition and innovation, know-how and creation, work and passion, heritage and future, international and local. Assessing a volume, reading the details of a plan, mastering a material, taking care over each gesture: EPVs are all driven by the same strength, that of value.
---
TERRITORIAL ROOTS
A DESIRE TO PASS ON KNOWLEDGE
Whether internationally renowned multinationals or companies of more modest size and renown, they have a shared approach based on the real passing on of know-how rooted in territories. Many exceptional companies master traditional know-how often passed down from generation to generation.
PERMANENT INNOVATION
Taking the mastery of the art and the technique above and beyond, EPVs continue to improve their processes and develop their products. Some improve their production methods; others invent new techniques to meet needs, standards and expectations of their time. The alliance between tradition and innovation is at the heart of the EPV certification label and its exceptional companies.